Howdy folks.  As I mentioned briefly a while ago, we jumped into the football (weird shaped ball variety) world this summer in a big way, with both boys practicing all summer long with the Bell Warriors.  This is a competitive league, with a limited number of spots available on the teams for kids to play on.  Full tackle football, with excellent coaching to get the boys ready to play in the fall.  It's been a blast.  Cael was playing with the tykes team and Quinn is on the mosquito team.
This past weekend they had the final pre-season evaluation in the form of a mini-tournament with the other teams in the league.  For Cael it was Friday Night Tykes, and for Quinn it was Mosquito Madness.   There were lots of butterflies in the tummies leading up to this weekend since it was really the first game-like situation that most of the lads had been in.  In both cases, the Bell Warriors teams did really well, probably "winning" about half of their mini games, although scoring was not really maintained.  The Vallentyne boys can play football it seems.  Who knew?  Certainly not my younger, scrawnier asthmatic self, who never would have played in a million years.
So needless to say there was a lot of strutting around with pride, puffing out of chests, etc.  And that was just me.
Anyway, here are some pics of the event, which have already been on Facebook but of course I like to roll my own solution so that these things will live on once Facebook finally dies (what, you forgot about Myspace already?).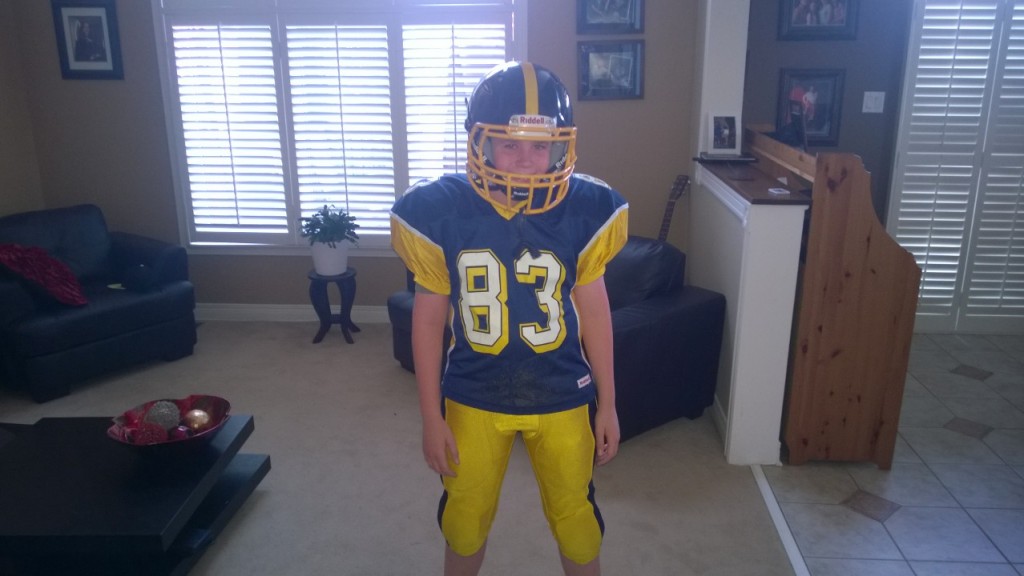 Unfortunately, as we were told was a possibility when we started, Cael got cut from the team this week.  It was not very fun, but he will be playing in the Beckwith league this fall hopefully and gain some valuable experience.  We will come back strong in the spring for the Warriors again.
So there you go.  The real football season is just starting for Quinn, and Cael will have lots of games in September and October too.  More pics to come then for sure.