Have you ever just decided that you just finally had it?  You are sitting there, just so fed up with this shit that it's like bile rising in your throat.  There's no way you can take it any longer, you are compelled to do something about it.  If you don't do something, you might even scream your head off?  Yeah.  Nikki apparently had happen that today.  Well, that's the only explanation I can come up with, anyway.
I'm sitting in the office at home, working away (in case anyone from work reads this, although the chances of that are slim based on my blog stats), when I hear something like the following from way down the hall in the living room.
Nikki: "Yes?  Oh, yes, sure.  It's quite old.  Yes, the drawers come out.  It needs a little fixing, the leg is a little separated."
At this point, I'm starting to clue into what is happening, and I start to listen a little more intently.
Nikki:  "…you can come today and have a look.  Oh sure, how about $50?  Sounds good!   See you then."
At which point I squawked from the office:  IT'S STILL GOT MY CLOTHES IN IT!
Yeah, Nikki sold my dresser today without really informing me that it would happen.  She laughed pretty hard at that point.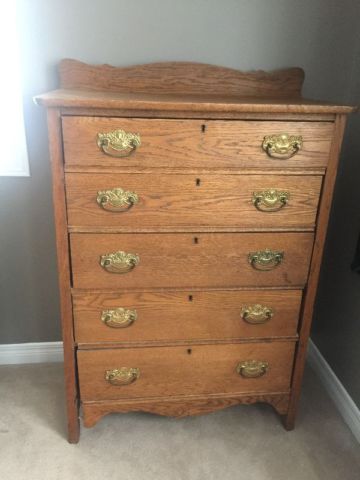 Aaand it's gone.  Before I could type 200 words about it.  I'm now living out of a garbage bag, people.